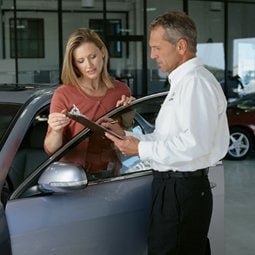 Ford Service Center in Litchfield, CT
When you own or lease a vehicle engineered to go whatever distance you require, you deserve the peace of mind in knowing there's a maintenance solution to match. For drivers from any corner of Connecticut, the answer lies with the convenient, customer-centric offerings of our Ford service center in Litchfield, CT. From handling the routine checks and items that are recommended during every service interval, to the most in-depth of fixes, we go the extra mile so your odometer can find thousands more.
We're the truck guys, but we're also the Ford guys, and our service personnel are cut from the same cloth! Our facility is staffed by certified mechanics who know the ins and outs of our lineup, and how to make services like oil changes, brake service, and even rotating or swapping tires feel like a quick stop-in. We also are home to a fully-stocked Ford parts department that carries the most demanded components, or the ability to order to our door, or yours!
Of course, there's nothing easy about contending with a battery replacement, or more serious problem with your car. But that doesn't mean that you have to endure that stress without a convenient solution! That's why you can schedule your service online, and also find savings through our rotating selection of parts and service specials. We invite you to take advantage of both, so can take arrive for your appointment reassured that the performance of your car and money in your wallet stay at optimal levels when you drive home!
Conveniently located within reach of our Torrington, New Milford, CT, and Watertown, CT drivers, our Ford service facility is here to help keep the odometer mileage coming without worry. If you have any questions about the maintenance we can provide, or need tire advice or other guidance, please call our dedicated, toll-free line at (888) 721-2517.